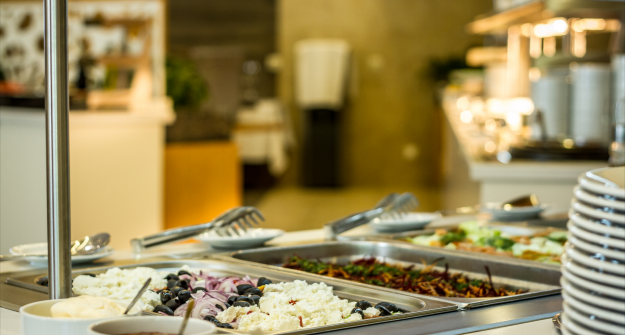 French
Salad bar
Cut cucumbers, tomatoes, salad mix, red onions, marinated cheese, beetroot (fresh & marinated), three sorts of olives, grated carrots, croutons, seeds, dressings, olive oil, balsamic vinegar, parsley and dill.
Salads
Leaf salad with crispy vegetables and blue cheese; Marinated beetroot salad with rocket and nuts; Potato salad with artichoke, Lentils salad with smoked salmon.
Soups
French onion soup.
Main courses
Veal meal with rosemary; Potato gratin; French beans with bacon; Tilapia fish with Béchamel sauce and capers; Rice with fresh seasonings and butter; Chicken fillet with Béarnaise sauce; Roasted pork meat with Ratatouille; Pasta with dried tomatoes and pesto.
Desserts
Seasonal fruits; Mousses and creams; Petit fours and Syrup cakes.
Bread
Ciabattas, whole bread and toast bread.