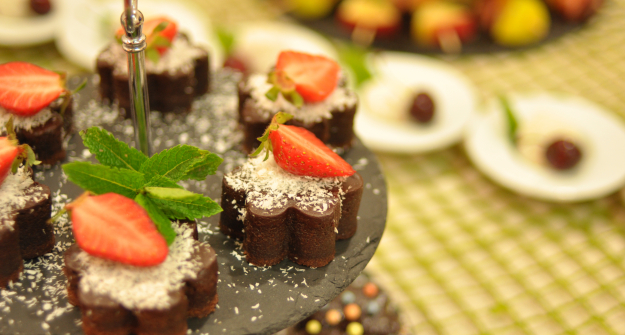 INTERNATIONAL Art breaks
Be different! Make an impression!
INTERNATIONAL Art Breaks ™

The specially designed F&B concept for event catering at INTERNATIONAL Hotel Casino and Tower Suites would simply impress the participants of your event.
Perfect combination of delicacies prepared professionally with attention to detail by Chef Martin Krumov, accompanied by beverages (hot drinks or cocktail), special decoration and exclusive style.
*Coffee breaks with food and beverages, decorated In the style of:
ASIA
Sushi sets – vegetable, fish
Fried noodles
Rice rusks
Aromatic fish baskets
Batonnet of fresh peppers, cucumbers and carrots
Honey gingerbread cookies and ladyfingers with white and dark chocolate
Tofu cream with almond croquant
Turkish delight with various stuffing
Hot tea
Cold green tea
Douwe Egberts Coffee
Exotic mineral water
AFRICA
Coconut cookies
Chocolate fudge
Arabic bread and fresh salad roll
Cream with caramel glazing
Loukoumades
Pineapple with cognac syrup
Fruit tartelettes
Fruit skewers
Tea
Coffee
Juices
Mineral water
EUROPE
Mini croissants with hazelnut cream, chocolate and without cream
Bruschetta with concasse tomato and Parmigiano
Chocolate cookies with chocolate chips
Shots of various mousses
Crumble cookies
Vanilla cream shambronies
Cocoa and vanilla mini-cakes
Cream panna cotta with blueberries, raspberries and seasonal fruits
Swartz coffee
Black tea
Fruit-flavoured mineral water
Fruit tea
NORTH AMERICA
Fruit pie
Puff pastry ribbons with various sprinkles on top
Mini cheese cake
Crock sandwiches
Savoury sticks
Muffins with fruit and chocolate fillings
Ginger cookies
Petit fours parfait
Creme Brulee
Americano
Hot tea
Cold fruit tree
Mineral water
*All the menus are sample and can be customized to suit your style and budget.